A History of Success
Martinez Sheet Metal is a Bay Area leader in full service mechanical contracting with a record of completing projects on time and on budget. In operation since the early 1930's, it was purchased in 1962 by Arthur Foster and has continued to grow through successful building projects and client relationships throughout the Bay Area.
Our Mission
Martinez Sheet Metal provides quality HVAC, plumbing and flashing/sheet metal solutions for commercial and residential clients backed by our reputation for consistent customer service. Our reputation as a trusted source in the Bay Area is built upon our ability to effectively partner with our customers, staff, and craftsmen to deliver value-added projects that exceed expectations.
Locally Owned & Operated
Managed today by the second generation of the family, General Manager Dave Foster and partners Jessica Pacat and Carlos Bazan.
Dave has over 30+ years experience in the Sheet Metal industry building long-term partnerships.
Martinez Sheet Metal, Inc. is an active member of the Bay Area Chapter of SMACNA and is signatory to local SMWIA #104 and Local 159, Laborers, Local 342.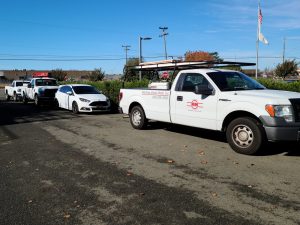 Building Partnerships – Not Just Projects
Our clients trust us to deliver with guaranteed service satisfaction.
Our experienced Project Team Leaders ask the right questions to provide you with customized solutions that meet your unique situation.
Our mission is reinforced in our goals for every client, every project, every time.
For more information on how Martinez Sheet Metal can assist you in finding targeted solutions for your HVAC, process piping, plumbing or service needs, contact us!